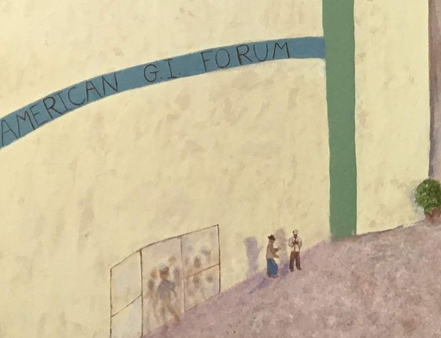 When reflecting later in life on why, as a young man, he chose to enlist in wartime, Carlos Martinez said avoiding service was never an option, nor for his community or for himself. By the mid-1960s, the United States had begun fighting the Soviet-backed North Vietnamese as part of its Cold War policy to contain communism. Martinez was a young man working in the upholstery business. He had embarked on this work on the advice of his father, who "was a big supporter of acquiring some kind of skill". But it turned out that he was allergic to textile dust, and with the country at war his way was clear. He had grown up in San Antonio, Texas, in a community where military service was common, respected and valued because he seemed to promise the full citizenship that had been denied to Mexican-Americans like him. The expectation in his West Side neighborhood – similar to the experience in other underfunded communities – was for you to join the military. There was, in his words, "no exemption to be had". The only choice Martinez had, thanks to his good test scores, was which branch to join. "[F]following [his] Dad's advice ", he opted for the branch where he could" get a better job. . . as the upholstery. Learning to maintain aircraft was engaging, and so in 1966 Martinez joined the US Air Force. Rather than the upholstery career he envisioned as a high school student, defending and caring for veterans became his life's work.
Martinez's initial experience supporting other veterans came shortly after leaving the Air Force when he and other Latino veterans faced employment discrimination. because of their background. Kelly Air Force Base hired Martinez as a temporary worker for a civilian position and initially he was satisfied. Soon he discovered that he and other Latino veterans had not had the chance to apply for regular positions but had been limited to temporary jobs. In addition, the men did not have the training opportunities for the advancement they were supposed to receive. Martinez had previously experienced similar discrimination in the Air Force. Although Department of Defense policy and the 1964 Civil Rights Act prohibit racial discrimination, Martinez did not get the promotion he was entitled to while in the Air Force, and then he noticed that other Latinos were in the same situation. By this time he had spoken to a superior about his concerns, but little had been done. This time, Martinez took action. To challenge the unfair treatment at Kelly Air Force Base, Martinez and several others formed an informal group they called Veterans for Equal Rights. The group has brought the issue to public attention with the support of key allies, including the American GI Forum, a Latino veterans and civil rights advocacy group founded in response to discrimination suffered by elders. Mexican-American fighters during World War II. Over time, equal rights veterans won their fight and affected veterans were hired into career positions.
Impressed by the American GI Forum, Martinez joined the group and ended up transforming their modest program into a nationally recognized nonprofit. In the early 1970s, when Martinez began working with the American GI Forum's veterans outreach program as an outreach worker, opposition to the Vietnam War was strong. It was also the era of civil rights, with the Chicano movement fighting for Mexican-American rights. Vietnam veterans, as Martinez recalled, "were not treated well and had not returned from the war". Leaders of the American GI Forum recalled that after World War II, returning servicemen from Latin American communities – communities with high military service rates – were not greeted as "equal citizens." And so they decided to do something. Within a few years, Martinez was Executive Director of the National Veterans Outreach Program (NVOP). Initially, the group had planned to focus on Latino veterans. But soon, Martinez recalls, "our doors were full, not just Latino veterans." In response, NVOP opened its services to Vietnamese-era veterans from all walks of life. Most recently, his clients have included veterans of the US wars in Iraq and Afghanistan. In its early days, NVOP focused on providing veterans with vocational training and job search assistance. As homelessness among veterans increased in the early 2000s, NVOP implemented a transitional housing program, opening the Residential Center for Veterans in San Antonio in 2005. It also added services to mental health, with Martinez noting, "We continue to evolve and we try to meet needs.
Love of the homeland defines patriotism, while recognizing and supporting the humanity of others is the essence of philanthropy. Martinez embodied both ideals. He served the country by joining the military and challenging the discrimination he found there. He went on to serve by building an organization to help veterans in need and regardless of their background. In August 2020, the nation lost a patriot and a philanthropist when Carlos Martinez, along with his wife Rita, died of COVID-19.
This blog post is based on an oral history with Carlos Martinez conducted by Amanda B. Moniz and Laura Lee Oviedo in January 2020 as part of the War and Latina / o Philanthropy Collecting Initiative.
This article originally appeared on the National Museum of American History blog on November 10, 2020. Read the original version here.