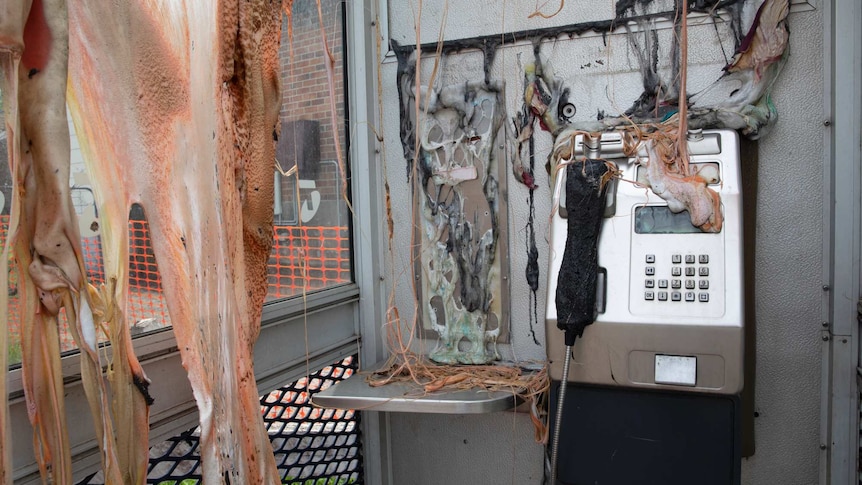 Artifacts from disasters across the country, including a melted down telephone box, are now on display as part of a National Museum exhibit showcasing the power of nature.
The Canberra Museum has collected images, videos and artefacts as part of a multimillion-dollar exhibit, Great Southern Land.
A melted telephone box discovered in Cobargo in 2020 following the Black Summer bushfires is one of the striking displays now on permanent display.
"Every time I see it, I have a gut reaction," senior curator Libby Stewart said.
The exhibition aims to explore Australia's connection to land and time, the effects of climate change and the stories, including those of First Nations people, that come with it.
Other natural disasters with items collected include Cyclone Tracy, the Victoria Black Saturday bushfires and the 2003 Canberra fires.
The curators are not actively collecting more items for display, but plan to collect historical items and stories from flood-affected areas, such as Lismore, in the future.
"I'm sure, unfortunately, we'll probably add to those collections later," Ms Stewart said.
"We're really conscious of not going into communities that have been impacted by trauma and are still dealing with it.
"It's really a two-way process."
A "macabre" reminder
The display of the "iconic" melted telephone booth reinforces the importance of disaster preparedness, according to Cobargo publican Dave Allen.
"It's a gruesome reminder, but it has to be kept in mind," he said.
The impact of Black Summer remains widespread over two and a half years later, with some residents still trying to rebuild their homes, while others continue to process the trauma.
The NSW Bushfires Coronial Inquiry continues to examine the death and destruction caused by the 2019-2020 bushfire season, while the flood disaster that hit the upstate continues to be the subject of its own investigation parliamentary.
Mr Allen said the response and recovery to the northern NSW flood disaster was "virtually a carbon copy" of what he experienced during the black summer.
He said the exhibit evoked the fear that history will continue to repeat itself unless communities and governments become more resilient to natural disasters and tackle climate change.
"We didn't learn enough, we didn't do enough and we didn't prepare enough to be prepared for the next one because the similarity to Lismore was scary," he said.
"From someone who's been through this, who's seen it, and some poor bastard up there going through the same thing, it's just crazy."