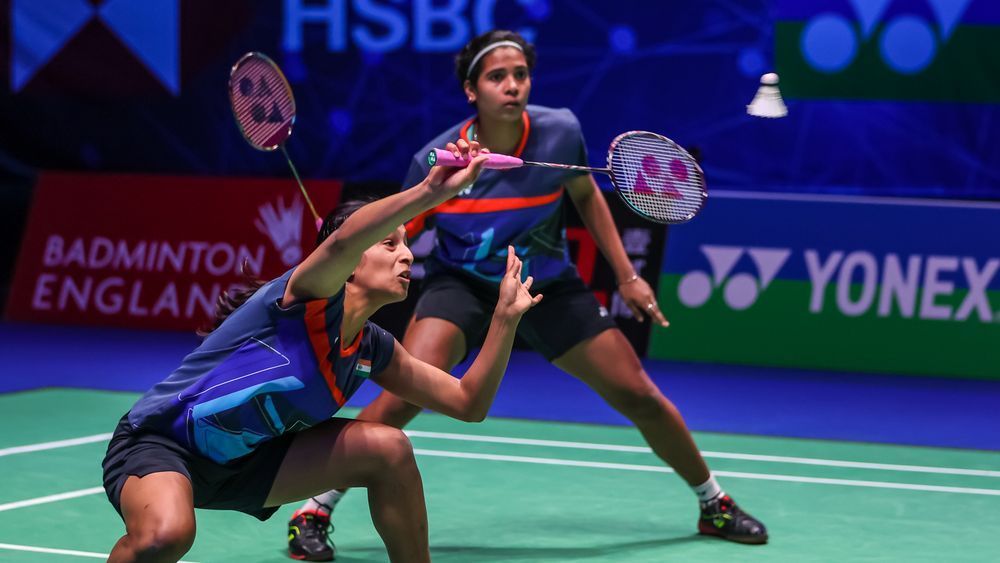 "I don't want to go to the next round like this," protested Treesa Jolly after leaving the field. "People will call us lucky. I want us to beat our opponents."
She and partner Gayatri Gopichand had just qualified for the All England quarter-finals after reigning Olympic champions Greysia Polii and Apriyani Rahayu pulled out in the second game. The following day, the pair, aged 18 and 19, beat the Worlds silver medalists and became the country's first doubles pair to feature in the All-England semi-finals. Their fairy tale run was stopped by the Chinese pair of Zheng Yu and Zhang Shu Xian 21-17, 21-16 on Saturday.
It's been an extraordinary week of fearless rookie play – coming off the reserves, flying under the radar and shredding fancy opponents with their raw attacks and bare guts.
One, the daughter of national coach and former England champion Pullela Gopichand, grew up in India's bustling badminton hub, Hyderabad. The other from Cherupuzha, a hilly little address in northern Kerala, where if you wanted to play sports, you built a court. That's what Jolly Mathew Thaickal, a former PE teacher, did for his daughters Treesa and Maria. He set up a courthouse on a patch of land outside their house. A roof has been added so that training can continue even during monsoons. While Maria gave up the sport a few years ago and is currently taking a nursing course, Treesa went the other way – moving to Kannur to train and live away from her family at the age of 13 before moving to Gopichand Academy in Hyderabad. She is still without a stable sponsor.
Gayatri and Treesa both started out with singles ambitions before moving on to doubles as they felt their bodies and games were better suited to it. Last year, they reunited as a couple. And in just their first season, they've raised the roof, made history and established themselves as one of the most exciting women's doubles teams. "Usually after tournaments most of the players go home, rest for a week and then come back to train," says coach Arun Vishnu, who traveled with them, "but Gaytari and Treesa didn't even didn't take a single break. They've used all of their time away from competition to train. That's one of the reasons they made rapid progress. I can't remember the last time that Treesa has gone home to see her family.
For a new pair finding their way into a partnership, tiny issues can often turn into easy breakups. Not so far, for Treesa and Gayatri. "When new pairs lose in practice matches, they often try to look for other partner options. With these girls, even the times they lost, they stuck together. There's good trust and a good understanding. That's what clicks the most in any partnership," says Vishnu.
Their combination is like two jigsaw pieces falling into place – Treesa with her raw, ruthless, relentless blows – each like a giant hammer slamming into the field. Gayatri, the Mrs. Nimble Hands, intercepting at the net, setting up the attack and doubling down on the onslaught with her quick runs. In Saturday's semi-final, the Chinese pair stacked it on Gayatri, cutting off Treesa's booming attacks from the backyard and shutting him out of the rallies. Their defensive weaknesses started to show and that's what ultimately took the game away from them.
Still, a semi-final is far from shabby for a pair who were up until last week hoping for a few decent training sessions at best on a trip to Birmingham. They were almost certain that an entry into the draw was not happening. Until a few withdrawals later, that was the case. And how they made it a historic and unforgettable race.