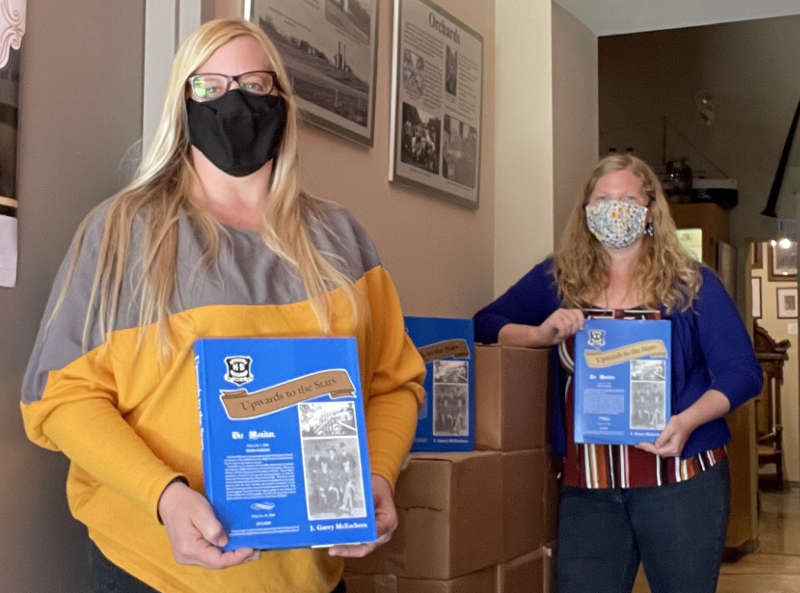 The Meaford Museum, together with author Garry McEachern and his family, recently donated over 200 books to the 2021 class of Georgian Bay Community School (GBCS).
McEachern's book, To the Stars: A Social History of Secondary Education in Meaford, is available for sale at the Meaford Museum as well as on online platforms. When GBCS Canadian and World Studies Professor John Flynn approached the Museum in early 2021 to donate the books to the graduates, along with Garry McEachern's family, they hatched a plan to distribute them.
McEachern, an avid historian and retired teacher at Georgian Bay High School, wrote several historical books on Meaford, but it was his most popular volume. To the stars traces the first century of secondary education in Meaford, documenting how the educational process was removed from the classroom and into the community. The personalities who brought Meaford High School to life appear in class skits and trivia. It includes classroom antics, student achievements, and the supreme sacrifices made by local students during the two world wars.
"My father combined his two passions: education and community when writing this book. He also has a keen sense of humor that comes through in the anecdotes and written memories, "said Laura McEachern Burton. "It was my family's wish, with the closure of the Georgian Bay Community School in June, to provide students and faculty with something tangible to remind them of Meaford High School and to commemorate all achievements. students over the years. "
John Flynn, Professor of Canadian and World Studies at GBCS, was instrumental in connecting the Museum with students. With COVID restrictions in place and online learning, Flynn had to find a way to get the books into the hands of students. "The graduation seemed like the perfect opportunity to distribute the books to the students," said Flynn. "We will also offer the books to current and former teachers and other interested community members as available."
To reserve a copy of the To the stars hard cover, please contact John Flynn at [email protected].