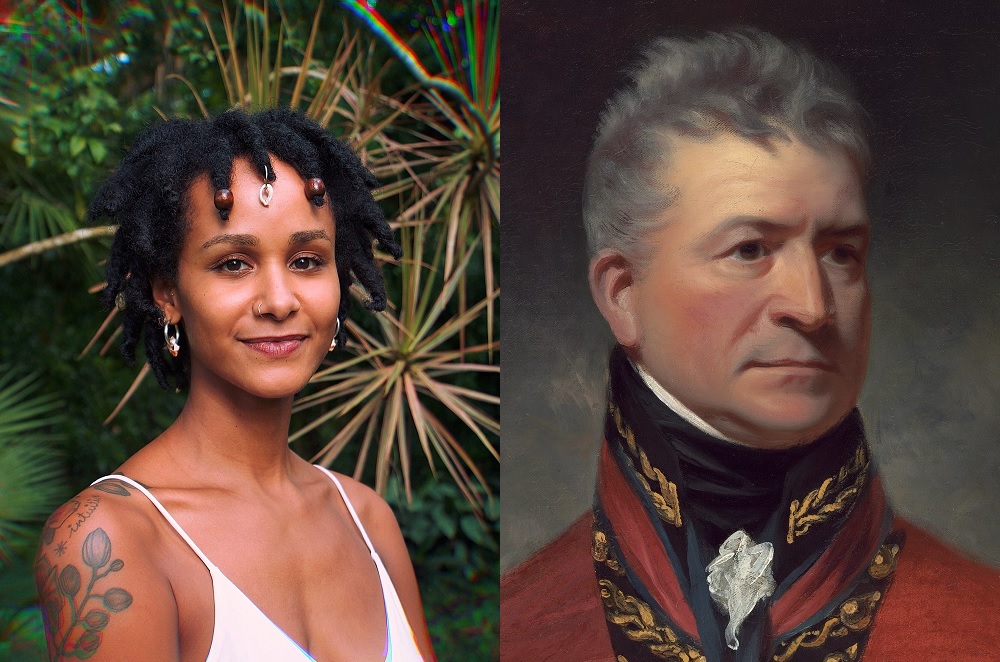 // = do_shortcode ('[in-content-square]')?>
The National Museum Wales has announced two new commissions from artists who will reframe the legacy of Sir Thomas Picton.
The museum hopes the new commissions will amplify the voices of those who were originally overlooked in telling Picton's history, or those whose lives are most affected by his legacy today. Once completed, the new commissions will become part of the National Collection for Wales.
It comes after Cardiff Council voted to remove the Picton statue from the nearby Cardiff Town Hall in July last year, in response to the Black Lives Matter movement and a month after a similar statue was overthrown in Bristol.
Sir Thomas Picton was celebrated as a war hero because he was the highest ranking officer to die at the Battle of Waterloo, but awareness has recently increased of his role in the slave trade.
The National Museum Wales said they attributed to Gesiye and Laku Neg as part of a larger project, Picton Cropping, which is a youth-led initiative involving Amgueddfa Cymru and her community partner the Sub Sahara Advisory Panel (SSAP).
The commissions follow a call from Amgueddfa Cymru in January 2021 for artists to explore alternatives to the colonial narrative represented by the portrait of Lieutenant-General Sir Thomas Picton and center the experiences of blacks. The portrait of Sir Martin Archer Shee has been part of the Amgueddfa Cymru collections since its founding in 1907.
New artwork from Gesiye and Laku Neg will explore "stories of ancestry, healing, transformation and empowerment". They said they would challenge the colonial narratives that traditionally existed in the galleries of the National Museum Cardiff by centering black awareness, experiences and voices.
'Responsibility'
Gesiye (pronounced gay-see-yay) is a multidisciplinary artist from Trinidad and Tobago. Her work with individuals and communities explores storytelling, connection and healing through a variety of mediums, and is inspired by a deep love and respect for the land. His commissioned work invites black Trinidadians to participate in a healing offering that includes a series of tattoos and conversations around their connection to the land.
She said: "Our connection to the spaces we were born into gives us a sense of belonging and responsibility to this land. When this bond is affected by trauma, such as the trauma of slavery and colonialism, we develop patterns of behavior in relation to the land which are then passed down from generation to generation.
"I envision this piece as a ritual, a healing opportunity for black Trinidadians to reconnect with themselves, with this island and with each other. This work is not an attempt to rewrite history, it is a rupture of the narrative that is so often brandished as a singular truth.
Laku Neg (Black court in Haitian Kwéyòl) is represented by four members of Trinidadian descent, living and working in the United Kingdom. The group promotes the expression of knowledge of the African diaspora through the arts. Their commission will explore a re-presentation of Louisa and Present, two young girls who fell victim to the brutal Picton regime in Trinidad.
They said: 'We appreciate the enormous responsibility of this project as we are working with the National Museum Wales to provide the public with a 360 degree view of Welsh history. This work for us is also ancestral work. We recognize what it means to be New World Islands and we honor those who came before us – especially our grandmothers.
"Here, we aim to create an immersive installation, illuminating a story that has not crossed the Atlantic untouched. By re-presenting the Caribbean and their connection to colonial powers, we hope to spark in-depth conversations about power, heroism and truth.
'Ownership'
The project group includes producers Amgueddfa Cymru – a network of young people across Wales who collaborate to develop activities, events and more at the museum – and members of the SSAP Youth Leadership Network – a network of young people from the African diaspora who bring lived experience, capacity and expertise to the community.
Dr Kath Davies, Director of Collections and Research at Amgueddfa Cymru said: Announcing the artists today. We are very grateful to the youth of the SSAP Youth Network for volunteering their time to work with us at the museum.
"I really can't wait to see the commissioned works of art on display at the National Museum Cardiff, and we hope this will spark a conversation about how we share the different perspectives and stories of Wales in a modern museum."
Fadhili Maghiya, Director of the Sub Sahara Advisory Panel, said: "The deeper you delve into the story, regardless of the type of story, the more facets of truth are revealed. And it is important to know who is watching, because we all come with lived and learned knowledge that shapes our vision. It's no secret that history has rarely been written by people of color.
"We are now in a time where we take ownership of our story and put footnotes of the story in the center. Our partnership with the museum is exciting and rewarding for the community and everyone involved. We learn from each other and are not afraid to challenge ourselves.