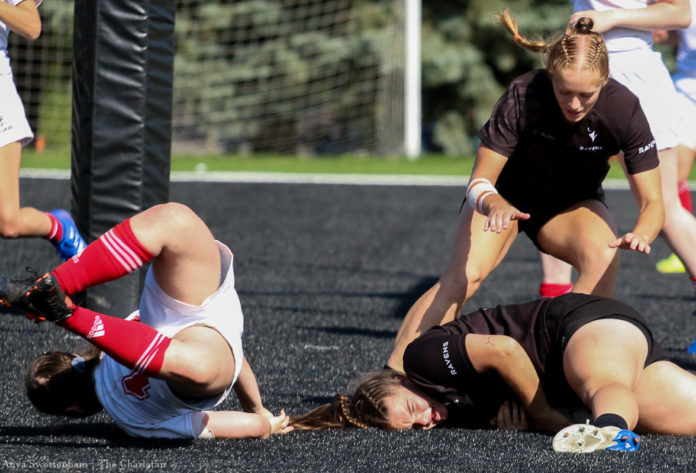 Carleton Ravens' women's rugby crushed the McGill Martlets in a record 90-5 victory on Saturday, setting new benchmarks for the most points scored in a single game and the biggest winning margin in history of the team.
Scrum half and co-captain Roberta Drummond also tied a team record with eight conversions in a single game, tying a record set by current assistant coach Jessica Joubarn.
The team chose to wear orange ribbon during the game in recognition of the upcoming National Truth and Reconciliation Day on September 30. The team also knelt during the "O Canada" out of respect for Indigenous communities and residential school survivors.
The Ravens started the game strong with the opening half Vanessa Chiappetta's first try just minutes into the first half. The team used solid passes and exceptional ball handling to execute plays off the field, resulting in several successful tries.
At the end of the first half, Carleton was leading 43-0.
It was the second time in two weeks that the Ravens faced the Martlets, as Carleton won 75-0 last time. Head coach David Luong said the goal before the game was to work on some of the team's techniques.
"It was playing with a little more discipline, trying to attack with a little bit of rhythm, and then using all of our skills," said Luong.
Drummond said a tough refereeing in the first half initially upset the team, but last weekend's improvements made the difference.
"At halftime we got together and we fought and it was really, really good," said Drummond. "It was a lot cleaner than last week and we stuck to our game plan a lot more."
After experiencing some penalty issues early in the game, Drummond said the team would put what they learned to good use for their game against Bishop's University next Sunday.
"We will have a tougher competition next weekend against Bishop, so [we will be] take what the referee pinched today and make sure we don't have to repeat the same mistakes, "said Drummond.
Luong said the team will take a day to relax and celebrate before returning to the pitch.
"We're happy with what we've done today and the players can celebrate and relax tomorrow, but come on Monday, we're back to work," Luong said. "It's 0-0 at the start of every game anyway. This is how it should be seen. "
---
Image presented by Anya Swettenham.