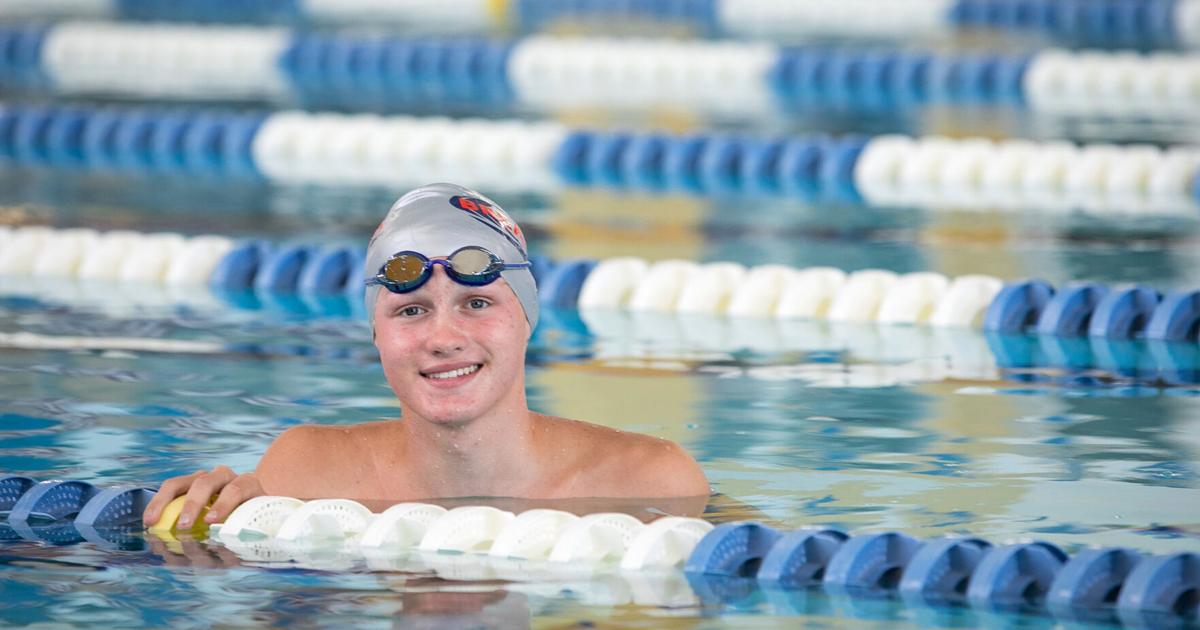 TRAVERSE CITY — A swimmer like Blake Rowe of Traverse City doesn't come around that often. And, at such a young age, Rowe is barely scratching the surface of his potential.
Rowe has made history since joining the Grand Traverse Bay YMCA Breakers at a young age. At just 16, Rowe qualified for the Speedo Winter Junior Championships earlier this year, making him the first Breakers 98-year-old swimmer to qualify.
But his entries in the Breakers history books don't end there.
Rowe earned a USA Swimming Scholastic All-American, making him the first-ever Breaker to also win this award.
The Traverse City St. Francis junior did things his way. Much like his favorite song, Frank Sinatra's "My Way," Rowe went against the grain of what most Traverse City-area swimmers have done.
Since there are no boys' swim programs in high schools in the Traverse City area, most boys join the Breakers club to compete on a swim team. Although there are still girls who join Breakers, it is mostly boys as there are girls' co-op teams with the three local schools in Traverse City.
One of the reasons why there are no men's swimming teams is that some competitions take place in winter, which is around the same time that most winter sports start. .
In the past, local schools have seen a drop in the number of boys joining swim teams, so they decided to cut it – leaving only girls from all three high schools to join and form the Traverse City Tritons.
Before Rowe joined the Breakers, he loved to ski. But after a few swimming lessons, Rowe had to tell his ski-loving father that he wanted to swim instead. Her father was more than okay with her decision.
Although Rowe still enjoys skiing, he knows he has to be careful with any physical activity. His trainer, Kathy Coffin-Sheard, joked that he had to ask permission to do any physical sport apart from swimming because of the number of times he had broken a bone.
"I get hurt pretty quickly and easily," Rowe said with a laugh. "I broke my right wrist two years in a row."
Coffin-Sheard added that Rowe can't even stand on a chair due to the number of times he's been injured. But despite broken bones, Rowe still broke records at an alarming rate.
In the 15+ division, Rowe's name is in the record books for short and long courses.
In short course, he broke seven records in 2021. Most of the records he broke were records he set himself.
The seven records are 500m freestyle (5:10:25), 100m backstroke (53.29), 200m backstroke (1:55.28), 1650m backstroke (17:57.84), 200 IM (1 :57.66), 50m backstroke (29.86) and 400IM (4:11.08).
Over the long course, Rowe broke nine records. The records are 200 freestyle (2:06.51), 400 freestyle (4:30.27), 800 freestyle (9:28.92), 100 backstroke (1:01.55), 200 backstroke (2:14.99), 50 butterfly (28.62 ), 200 butterfly (2:27.67), 200 IM (2:16.13) and 400 IM (4:51.99).
Rowe noted that his favorite event for swimming is the 100 and 200 backstroke because he gets to breathe while swimming.
Rowe not only excelled in the pool, but inside the classroom, earning over a 4.0 GPA, surpassing the 3.5 GPA Scholastic All-American requirement.
During Rowe's second year at St. Francis, he was taking every honors course and still breaking records. This year, he is taking three advanced placement courses and two specialization courses.
The junior sensation does not use the tutoring services that are provided and still manages to get good grades. That said, Rowe finds time when he doesn't have to think about school or swimming.
Since starting school, he has had no problem finding a balance between the two. Rowe said around December the workload will be a little overwhelming, but he knows how to set aside time by having good time management.
Prior to this weekend, Rowe was swimming in just three events per competition. But this coming weekend, it has nine individual events and two relays. With just three competitions remaining before the junior championships in December, Coffin-Sheard and her assistant are making sure Rowe is ready to go when the time comes.
"A lot of kids are challenged," Coffin-Sheard said. "We push them in our first encounters as a couple because we want them to take a bit more to load bare and then work on the run. It's really about the art of racing, competing and having fun instead of focusing on our fastest time. I mean, if we get our best time out of it, that's a good thing.
"In the beginning, it's really about conditioning and preparation for our next phase of performance training, which will be to work more on sprint work.
Increasing the number of events for Rowe was something Coffin-Sheard decided on, and Rowe was all for it because he likes swimming in more than three events. She signed him up for more than he usually does to get him running; so that when it comes time for the national junior championships, he's ready.
While Rowe isn't the only Breakers swimmer participating, there are approximately 60 kids who will be traveling with their families for the upcoming event. Coffin-Sheard noted that it's one of the biggest bands they've had.
"This is really good news for the program," Coffin-Sheard said. "I think this sport has grown. We have families like the Rowes. We've seen a lot of consistency over the last two or three years, just having more people more interested in going and taking their kids to events.
"It's also expensive, and it's a big family commitment, so we try to be as supportive as possible."
Since Rowe is only a junior, he has already set his sights on getting into a Division 1 school. He has thought of a few schools he wants to attend. One of the schools is Duke University.
He said when they went to North Carolina over the summer, he got a chance to visit the school and fell in love with everything.
He also added that he wouldn't mind going to southern schools to get away from the cold. Rowe has received offers from Boston University and Bryant University over the past two weeks.
Another goal Rowe has for himself is to qualify for the Olympic Trials, but he is currently four seconds behind the qualifying times.
To be good at this sport, a strong support system is needed. Rowe has that.
Rowe's parents have been extremely supportive of everything he does. Rowe said that when they attended swimming meets, he knew where his parents were because of the noise they could make.
Rowe notes that having friends on the Breakers has been a plus for him as he continues his journey. Most of his teammates attend local schools in Traverse City.
Since Rowe qualified for the Junior Nationals in December, he's had the chance to continue writing his history in the Breakers' record books. If he qualifies for a specific time at the Junior Nationals, he will be able to swim at the Nationals with swimmers from across the United States.
Rowe knows his ceiling is high; but for now, he's enjoying the ride and can't wait to see where his journey takes him.