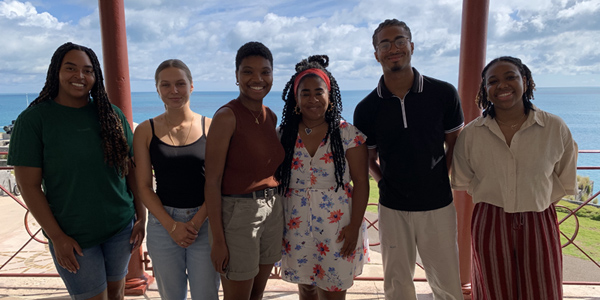 Six Bermudian students participate in the National Museum of Bermuda's [NMB] summer internship program this year to gain hands-on work experience and training in all aspects of museum work, including learning best practices in heritage management, as well as deepening their understanding of Bermuda's diverse history.
Through the program, NMB interns learn historical research skills, such as how to conduct archival research and historical investigation; collection management techniques, including how to access artifacts, and how to manage and document artifacts; and outline installation procedures.
NMB curator Dr Deborah Atwood, who manages the internship programme, said: "Interns are an integral part of the Museum team, assisting with collections management, curatorial, research and exhibition projects. . Bermuda's cultural heritage sector has a bright future with these talented and enthusiastic students.
Dominique Williams, Samantha Stempel, Jaylen Simons, Hana Bushara, Yusef Bushara and Amani Simons
A spokesperson said: 'As part of the programme, trainees are encouraged to develop academic and public history writing skills. They are invited to submit articles for the NMB's online blog, the annual MARITimes members' magazine, and the NMB's public and scholarly history journal, the Bermuda Journal of Archeology and Maritime History.
"Each intern is assigned a main research project based on their interests and studies of objects and documents in the NMB collections. Their research informs the development of exhibits and resource guides for teachers and students. NMB interns also explore other cultural sites and institutions around the island as an introduction to Bermuda's network of cultural heritage professionals and institutions.
Former NMB intern, now Curatorial Assistant, Chynna Trott said, "The skills I learned at the Museum enhance my understanding of Bermuda's history and the history of the Atlantic world in the sense wide. The internship was invaluable in clarifying my chosen field and allowing me to build relationships with museum professionals. These relationships have allowed me to feel more confident in my academic journey while providing me with support in my professional career".
Projects the 2022 interns are involved in include creating a teacher resource guide on piloting in Bermuda; research on a maritime subject or object of their choice in the NMB's collection; research on the role of oral histories versus archived and recorded histories; the relocation of the Museum's extensive collection of shipwrecks and underwater cultural heritage and the transcription work of the Museum's oral history collection.
Curatorial Assistant NMB Chynna Trott
A spokesperson said: "The 2022 NMB trainees come from a wide range of backgrounds, from history and English to communications and science. Dominique Williams is completing a Bachelor of Science, Biology, at St. Francis Xavier University [Nova Scotia, Canada]; Samantha Stempel studies psychology at Bryant University [Rhode Island, US]; Jaylen Simons studied Classics and English at King's College London [United Kingdom]; Hana Bushara received her BA in Global Studies from St. Lawrence University [New York, NY] and is currently working on her Masters in Strategic Communications at the London School of Economics and Political Science [United Kingdom]; Yusef Bushara studies political humanities at Sciences Po/Hong Kong University [Hong Kong]; and Amani Simons is a student of Ancient, Medieval and Modern History at the University of Kent, Canterbury [United Kingdom].
Hana Bushara said, "My motivation to participate in the NMB Internship Program stems from my passion and interest in communication and media studies, as well as my desire to contextualize the current social and political landscape of Bermuda by gaining a better understanding of the history of our island. . Awareness of the past through which we emerged is paramount to the positive growth of Bermuda. I am delighted to be mentored by passionate history practitioners, as well as working alongside a group of interns who are passionate about Bermuda"
Yusef Boushara said: "I am thrilled to be part of the summer intern cohort at the National Museum and to learn from some of Bermuda's best in all things history! My interests lie in learning more about how Bermuda's cultural heritage is constructed and preserved, what our framing biases have been historically, and what pressures must be exerted institutionally to make our narrative of the fuller and more inclusive story.
Jaylen Simons said: "I first applied to intern at the National Museum of Bermuda after visiting the museum and the casemates in high school. That summer, I volunteered as an intern, helping with conservation projects and research. Since then, my interest in Bermuda history has grown, and being an intern at the Museum has allowed me to research and learn more about Bermuda history and explore topics that interest me. particularly interest. The internship also allowed me to gain experience and get research jobs in academia, working with professors and universities.
Dominique Williams said: "I applied for the NMB internship this summer mainly because history, genealogy and research is a hobby of mine and after seeing the museum's family album initiative, I thought how can I get involved this summer to learn more about the history of Bermuda. And it's more than I could have imagined, spending every day learning with so many dedicated historians has been amazing! I would recommend a museum internship to anyone who is dedicated to learning about Bermuda's history and our connection to the rest of the world or who simply wants to gain experience working in a museum environment."
Amani Simons said: "I chose to do an internship at the Museum because I am studying history at university. Doing this internship showed me how interconnected the world is and where Bermuda fits into it. I learn new things every day and it has helped broaden my perspective on not only Bermuda history, but world history as well.
Samantha Stempel said: "The NMB internship was an eye-opening experience, exposing me to both the long history of the island and my place in that timeline. Not only does this make you appreciate the work of preserving the country's heritage and culture, but also the importance of sharing it with others.
NMB offers 4-week and 8-week summer internship opportunities for undergraduate and graduate students and new graduates. The internship program is supported by the museum's annual fund, the Anchor Fund and the Government of Bermuda's Department of Youth, Culture and Sports. To find out more visit here.
Learn more about
Category: All, History, News