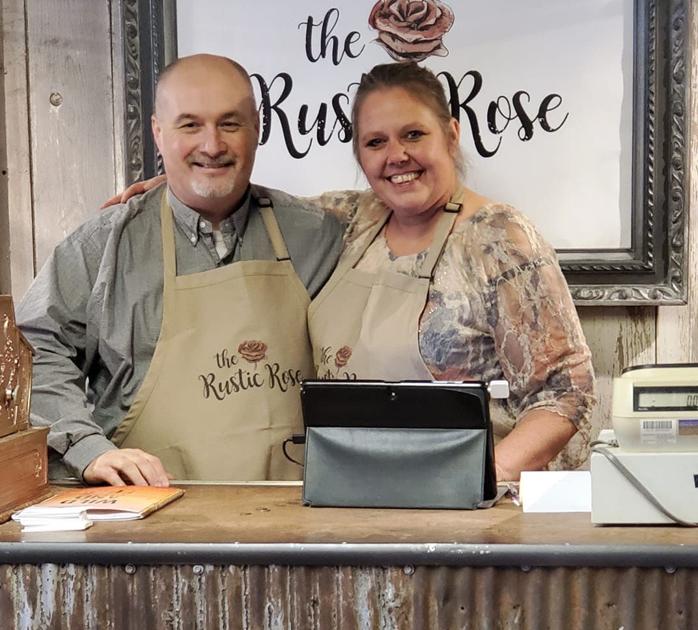 WOLCOTT – A Wolcott couple have planted their roots on Market Street with their new antique restoration and vintage decor business.
Dawn and George Blissett opened Rustic Rose Restorations in November and are eager to host a Spring Open House with other businesses on Market Street. They plan to announce more information over the next month on their Facebook page.
Dawn Blissett is passionate about restoring old furniture and crafts. She has been restoring and renovating wood and craft projects for over 15 years and has been doing restorations for clients for 10 years.
"Prior to opening our store, I would be doing several vintage markets in the Michigan and Michiana area with my sister, who also has a salvaged store," she said. "Before Wolcott's Crafts Unlimited Gifts moved, I sold items at the store and always put items for sale online."
Blissett said she missed being in a store environment.
"Traveling and hauling all the heavy furniture and small decor has become taxing for my sister and I," she said. "Mixing up busy work schedules and it became clear that we needed a store. "
Rustic Rose Restorations is located at 125 W. Market St. in Wolcott and is open from 11 am to 6 pm EST. If the store is not scheduled to open, people can call 219-313-0469 to schedule a time to shop or have a furniture restoration consultation.
Blissett said people will find unique items in his store. It features restored and personalized furniture, crafts, handmade decorations and murals, hand-poured candles, soaps, antiques, chick chalk paint and wooden signs. personalized. They also run craft classes open to the public and private craft events for large groups.
"I hope our store will bring beauty to the lives of our customers and an attraction to the city," she said. "All of Wolcott's stores are unique and different so we complement each other really well, which is worth a visit to visit all of the stores in town."
Blissett hopes his new business inspires neighbors to take the plunge and fill more storefronts in Wolcott.
"I am an active member of the Main Street Committee and also a member of the board of directors of the Remington Wolcott Community Development Committee (RWCDC)," she said. "It breaks my heart to see old towns not thrive like they used to. I think it is the duty of every inhabitant to help their city grow and prosper.
"When we chose to open a business, we did so to help bring the building to life. We hope to fix it and inspire others to do the same.
Although Blissett has said the store is a work in progress, she is hopeful people will see her offerings and see the quality that is available to them.
"The name reflects everything to me. When you think of a rose you think of beauty, and when you think of rustic you think of vintage, "she said," and that's exactly what you'll find here – vintage beauty.